Document: Beit-El Ezrachoot Kavod (Honorary Citizenship)
J4JP Release - October 23, 2006
[Translated to English by J4JP]
Presented 29 Tishrei 5767 (October 21, 2006)
---
B"H
""G-d's redeemed shall return and come to Zion with joy."
We the citizens of the regional council Beit-El
are honored to bestow upon Prisoner of Zion, Jonathan Pollard"
the title 'Honorary Citizen' of Beit El.
This is in recognition of his great work on behalf of his nation and homeland.
Jonathan sacrificed himself to save the State of Israel from very great security dangers -
and as a reward for this, he has been languishing in an American prison for 22 years!
We call upon and request from the President of the United States to
release him immediately.
We call upon the Government of Israel, which recognized him as an Israeli agent,
to put an end to his prolonged suffering, and to this blow to Israel's honor,
and to act zealously to obtain his release.
We all pray to the Creator of the World for the fulfillment of this request this year.
With admiration and love,
(signed)
Moshe Rosenbaum, Mayor of Beit El,
in the name of the residents
---
Original document: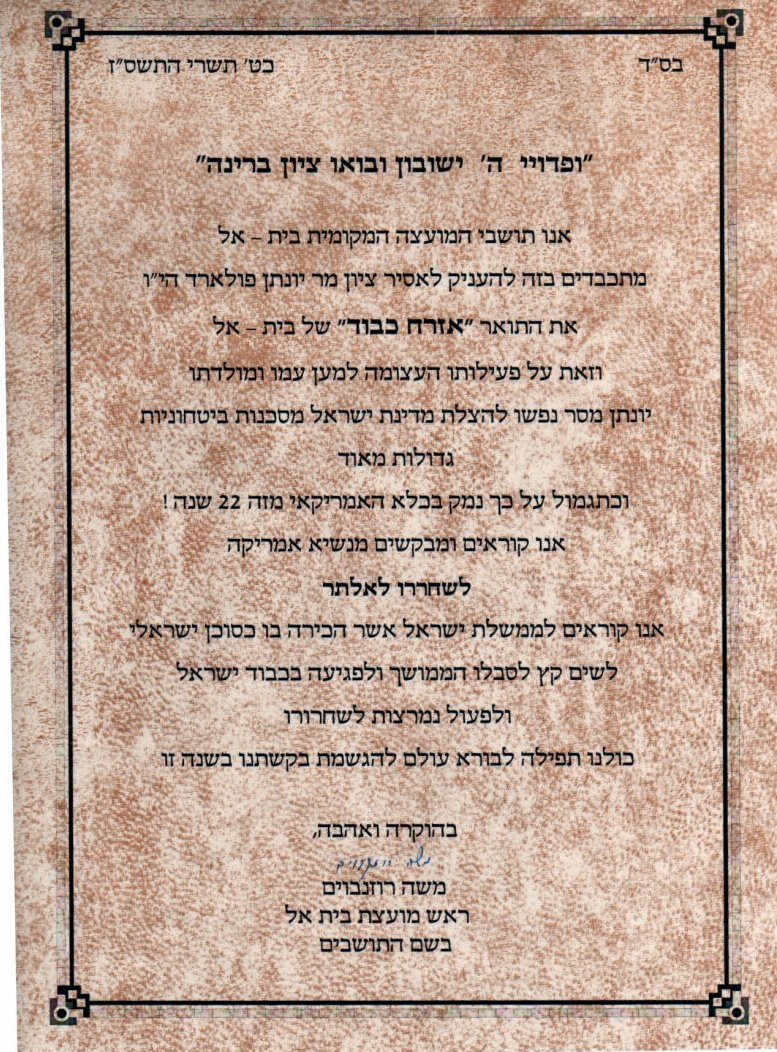 ---
See Also: Beit El Grants Pollard Citizenship