HaRav Eliyahu at Hunger Strike to Free Jonathan Pollard
B'Sheva Magazine - July 1, 2004
J4JP:
Photo of HaRav Mordecai Eliyahu, former Chief Rabbi of Israel and Jonathan's rabbi, visiting the hunger strike tent. Translation of B'Sheva article follows below.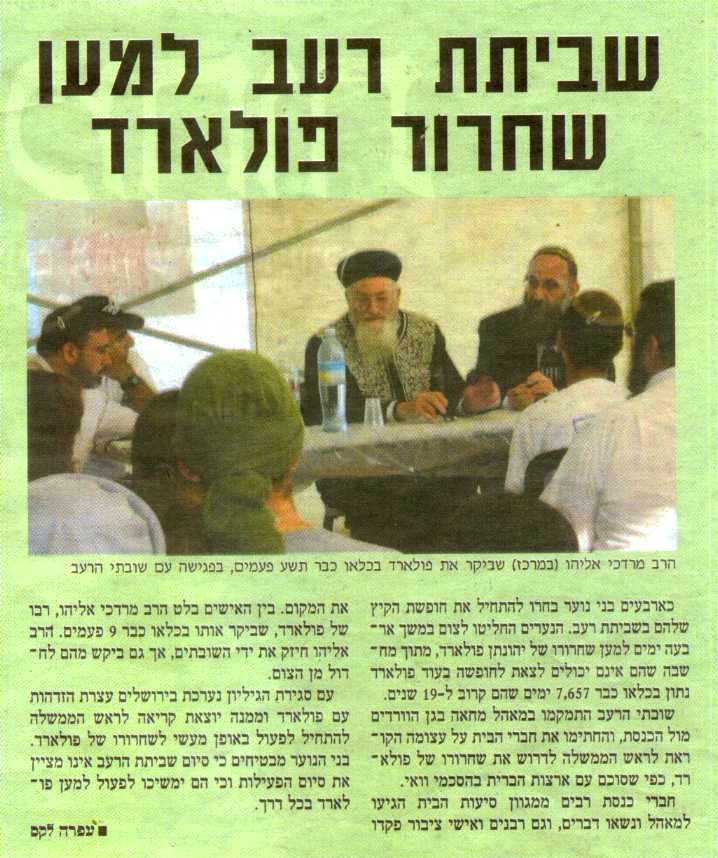 J4JP Translation of B'Sheva Article
Some 40 youths chose to start their summer vacation with a hunger strike. The youngsters decided to fast for 4 days to call for freedom for Jonathan Pollard, because it was unthinkable to go on vacation while Jonathan Pollard continues to languish in prison for 7,697 days - nearly 19 years.
The hunger strikers set up a tent in the Rose Garden opposite the Knesset and signed up MKs on a petition calling on the Prime Minister to demand Pollard's release, in keeping with the American commitment that was made as an integral part of the Wye Accords.
Many Knesset Members, from every Knesset faction, came to the hunger strike tent and spoke. As well many other officials and public figures visited the site. Outstanding among them, HaRav Mordecai Eliyahu, former Chief Rabbi of Israel and Jonathan Pollard's rabbi. He has visited Pollard in prison 9 times. HaRav Eliyahu gave support and encouragement to the youth for their activities on behalf of Pollard, but at the same time asked them to stop fasting. [J4JP note: When HaRav Eliyahu was told that the hunger strike was scheduled to end the next day, he removed his objection and blessed the youthful participants.]
At the close of the hunger strike, a demonstration in support of Jonathan Pollard was held, calling on the Prime Minister to act intensively to free Pollard. The youthful participants [J4JP: by the time the hunger strike ended there were 50 hunger strikers] stressed that the end of the hunger strike is not the end of their activities for Jonathan Pollard.
Justice4JP Adds:

Adi Ginzburg, 18, and a veteran Pollard activist is head of the Pollard Youth Movement. During the hunger strike Ginzburg was in daily touch with Esther and Jonathan Pollard to keep them apprised. Adi reported that when he told the youthful hunger strikers that Jonathan refers to them as "our kids", the youth were deeply touched and sent a message back to Jonathan:"We vow to fight even harder now to free our 'father' from prison!"
---